Pyrenees House – 5352 9760
---
Designed in 1886 as a general hospital, Pyrenees House was built in the elaborate Queen Anne style with iconic tower and fine detailing inside and out. In 1901 the building was registered as a training school for nurses. With the establishment of a new hospital in 1937 Pyrenees House was converted to a Nurses' Home.
The building became vacant in 1953 and was converted to a 27 bed geriatric ward.  Since 1988 the building has been used for temporary administration offices until its refurbishment in 2011 into an Education Centre with conference and meeting rooms as well as Café Pyrenees.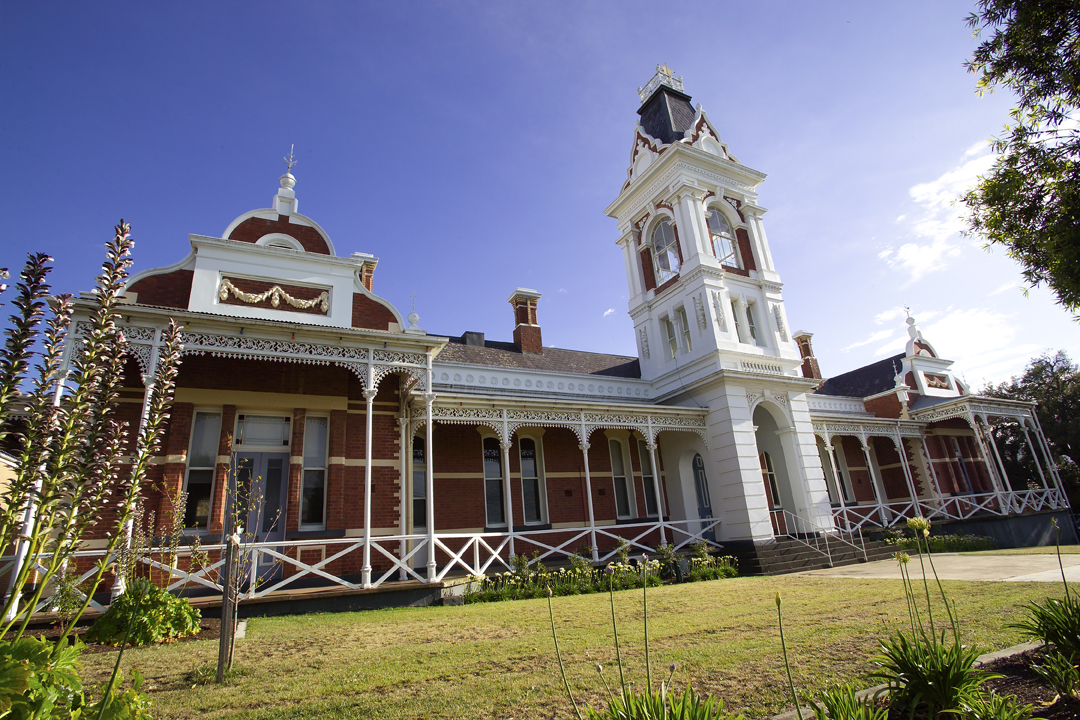 Education Centre
In the heart of Ararat, Pyrenees House offers a contemporary Education Centre, café and conference/meeting rooms, in the historical setting of a magnificent Queen Anne style National Trust building.
Pyrenees House has been tastefully refurbished as befits a grand historic building and now provides first class function and conference facilities for groups up to 70 people, down to more intimate gatherings.
Our qualified chefs and hospitality staff from Café Pyrenees will ensure your day runs smoothly. They will be familiar with your requirements, understand your needs and give you the confidence to focus on your clients.
Function, Conference and Meeting Facilities
Pyrenees House has two large conference rooms, two meeting rooms and a computer training room. Pyrenees House is fully air-conditioned providing state of the art multi-media including video conferencing, wireless internet access, projector and surround sound controlled by touch screen.
Pyrenees House and its facilities are also available for evening functions.
Café Pyrenees
Café Pyrenees brings a taste and a touch of sophistication to Ararat, delivered with true country hospitality. It's bright, modern and is a popular meeting space for our community. With access for all abilities, Café Pyrenees is open to the public Monday to Friday 8.00 am to 3.30 pm and is situated at the rear of Pyrenees House, entry off Girdlestone Street.
Café Pyrenees provides a variety of catering options for the Education Centre and for external clients. It offers a wide variety of delicious food options and with its reputation for great coffee is the place to enjoy morning tea, lunch or afternoon tea in comfortable surroundings. Healthy choices are available and special diets can be catered for on request – please discuss with our friendly staff.
For further information please contact:
East Grampians Health Service
Pyrenees House
P: 03 5352 9760
E: pyreneeshouse@eghs.net.au
---
Pyrenees House Rooms for Hire and Seating Capacity

Room 
Standard
Theatre style
Conference style
Cabaret style
Mt William Room
–
70
30
40
Mt Langi Ghiran Room
–
70
30
40
Computer Training Room
9*
–
–
–
Ben Nevis Room
8-10
–
–
–
Mt Chalambar Room
8-10
–
–
–
*including presenter
Video Conferencing is available in Mt William Room, Mt Langi Ghiran Room & Mt Chalambar Room
---
Mt William and Mt Langi Ghiran Room Equipment
Projector and computer
PA system and lectern
Whiteboard / flipchart
DVD with surround sound
Hearing loop for the hearing impaired
Video conferencing
Telephone conferencing
Wireless internet access
Computer Training Room Equipment
8 workstations
1 presenter workstation
Electronic smart board
Projector
DVD player
Surround sound
---
Location
Pyrenees House is situated in Ararat 200 kilometres, or approximately 2 1/2 hours drive, to the West of Melbourne, close to the Grampians.  Ararat is ideally located in relation to Ballarat, Horsham, Stawell, Hamilton, Warrnambool, Maryborough, Bendigo and surrounding areas.
Just wanted to let you know that your café is fabulous and the food is presented so well.  Congratulations to your team that undertake this work.
Just a note of thanks for the wonderful dinner you did for us last Thursday night. The feedback from members and guests has been terrific. The balance of the dinner, presentation and quality of the ingredients were excellent. We really did appreciate the fact that you did have another dinner that night, and you were still able to present such a great meal for the Society. Thanks also to all your staff who assisted on the evening. We look forward to our next function. Kind regards.
I just wanted to say thank you for your assistance with our booking.  The venue was lovely, the food was beautiful and there was a wonderful variety of food.  The service from the staff was fantastic, and they were genuinely thoughtful and responsive to our needs.  It was an absolute pleasure to use your services.  Thank you for all your help, advice (particularly regarding food choices and quantities) and your time.  The meeting ran extremely smoothly and it is very much appreciated.
All went well for the session.  Great room, facilities, catering and the technology worked exceedingly well.  I am looking forward to returning next month.
We had a great day yesterday.  Thanks for all of the great work you and your team put in.