During National Diabetes Week, East Grampians Health Service highlighted the services of its Diabetes Education team.
EGHS chief executive Andrew Freeman said at East Grampians Health Service there are two Diabetes Educators, Julie Lang and Bree Fratin, who are available Monday to Friday 8.30am to 4.30pm to assist people living with diabetes.
"They work with all diabetes patients, pre-diabetes, type 1, type 2 and gestational diabetes, and assist with equipment, education and information on diabetes, medication and self-management of the condition," Mr Freeman said.
"In addition to helping those with diabetes, our Diabetes Educators support their families friends and the wider community to help manage their diabetes."
The theme of this year's National Diabetes Week was 'Heads up on Diabetes', focusing on supporting the emotional and mental health of people living with diabetes.
Mr Freeman said each day people living with diabetes may have to make around 180 extra decisions, whether that's on what food to eat, keeping track of medication, exercise and literally hundreds of other issues that affect their diabetes, just to manage the condition and stay healthy.
During National Diabetes Week, Diabetes Australia worked to:
Raise awareness of the mental and emotional challenges of managing diabetes
Highlight the services and support available to the diabetes community
There are three main types of Diabetes –Type 1 Diabetes, Type 2 diabetes and Gestational Diabetes.
Diabetes is a condition where there is too much glucose (sugar) in the blood stream. Glucose is an important source of energy for your body. It comes from carbohydrate foods that you eat, such as bread, pasta, rice, cereals, fruits, starchy vegetables, milk and yogurt. Your body breaks down carbohydrates into glucose, which then enters your blood stream.
Insulin is made in your body by the pancreas. Insulin is needed to allow glucose from the blood stream to enter the body cells and be used for energy.
Pre-diabetes is where the blood glucose levels are higher than normal, although not high enough to be diagnosed with Type 2 Diabetes.
Type 1 diabetes is an auto-immune condition in which the immune system is activated to destroy the cells in the pancreas which produce insulin – it's not linked to modifiable lifestyle factors. There is no cure and it cannot be prevented.
Type 2 diabetes is the most common form of diabetes. It affects 85 – 90 per cent of all people living with diabetes, it occurs when the pancreas cannot make enough insulin. This leads to high blood glucose levels.  Type 2 diabetes usually occurs in adults, but younger people – and even children – are now developing type 2 diabetes.
Risk factors include:
Having a family history of type 2 diabetes
Having pre diabetes
Being above the healthy weight range
Having an inactive lifestyle
Increasing age
Gestational Diabetes is a form of diabetes that occurs during pregnancy.
To talk to Julie and Bree about how to manage your diabetes, please make an appointment by calling 5352 9327.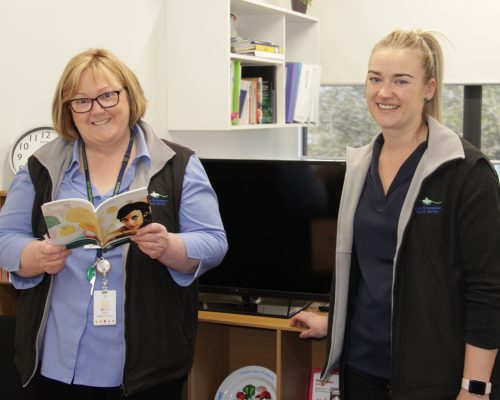 Pictured: The East Grampians Health Service Diabetes Educators Julie Lang and Bree Fratin