70 Lowe Street
---
Our staff are committed to providing quality care with a focus on the individual.  70 Lowe Street offers an alternative home for people that require continuous nursing care.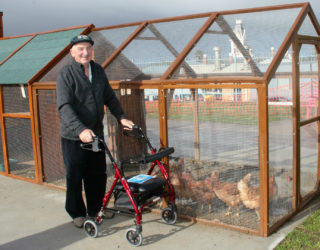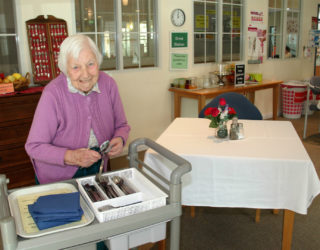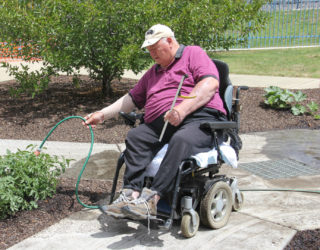 ---
The design of this modern spacious building promotes easy access for all residents.  The building design maximises natural light and ventilation and includes  fully landscaped surrounds to provide a positive therapeutic effect.  With flexible areas and a passive solar design, the facility is a pleasurable place for our residents to reside.
Additional features include The Chapel, which is used by all denominations and provides a quiet time for family or resident's reflection.  The Seasons Room over looking Mt Langi Ghiran allows for residents and families to get together to admire the magnificent scenery, as well as being the venue  for afternoon tea served by volunteers on a Monday afternoon for 3 – 4 Residents on a rotational basis.
70 Lowe Street has met the stringent standards and is fully accredited by the Aged Care Standards and Accreditation Agency.
What costs are involved?
Residents can choose to pay for their accommodation by a refundable deposit, a daily payment, or a combination of both.
A refundable deposit is paid as a lump sum amount. A daily payment accrues daily and is paid periodically, for example monthly. A combination payment includes both a partial lump sum and daily payments.
More information on costs can be obtained from the fees brochure EGHS Residential Aged Care Fees – BRAC08
Further Information
If you would like further information please contact:
The Manager
70 Lowe Street
Telephone:  (03) 5352 9575
Email:  managerlowestreet@eghs.net.au
or download the 70 Lowe Street brochure:
---
The Montessori Method
"Montessori for Dementia focuses on supporting both the person and the environment which is adapted to support memory loss and independence. We are unable to change the effects of dementia but by embracing Montessori principles and implementing environmental adaption's including meaningful activities, roles and environmental cuing, we can circumvent the dementia. The result is that people living with dementia are able to make meaningful contributions to their community, engage in activities in addition to having the opportunity to maintain and even restore function. The approach is flexible, innovative and grounded in research"
http://montessorifordementia.com.au/
Montessori is not just exclusive to people living with cognitive impairment, all residents regardless of diagnosis or disability will benefit from this as it focuses on their capabilities and abilities. This ensures every resident's activities are person centred and a "personal prescription" for their needs, likes and abilities. It also provides opportunities for engagement for residents, family and staff with the goal of enhancing and improving quality of life